August 2019,
Well after what has been one of the busiest months of the year, August has come to an end. We've had some amazing cars come into stock and some absolutely incredible cars sadly go in such a short period of time.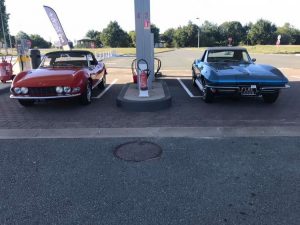 Last month was a very significant one for our little garage. I am delighted to say that we sold our Fiat Dino Spider and she now resides in Biarritz. This beautiful car has become another piece of Deane Motors history when it starred in our latest and most viewed 'get out and drive' video earlier this year, which had a whopping 20k views over all our social media platforms. A special mention to my good friend Neil Kavanagh for making me look almost as beautiful as the car, as

I drove around Dublin city in the early hours of a beautiful Sunday morning. Most importantly, the little Dino got my one and only Orla to the hospital when she went into labor with our son Joe. The suggestion of a Dino related name didn't go down well… Once we closed the deal, the pain staking task that is route planning came into play as all the while we had to factor in the delivery of our Corvette Stingray which had to be brought down to Perugia, Italy. So having planned out our trip myself and my dad set out on our way across Europe on an epic adventure. 
Of course, being the a glutton for punishment that I am, I could not help but purchase the most mint Lancia Fulvia that I have ever come across. Luckily myself and Shimo will have to return to Italy in a few                   weeks to drive her home.

                   
Dino was the nickname of Enzo Ferrari's son Alfredo Ferrari, who had died in 1956 and was credited with the concept for Ferrari's Formula 2 V6 racing engine.  In his memory, V6-engined Ferrari sports prototype racing cars had been named Dino since the late 1950s. Aimed at the luxury sports car market, these front engine, rear wheel drive cars were the top of the range Fiat offerings and drew heavily from their association with Ferrari. When Enzo Ferrari sought to improve the V6 engine for Formula 2 in the mid-1960s, he looked to Fiat to increase production up to required levels.

Ferrari had a DOHC engine ready to go 'the Dino 196'. Aurelio Lampredi (Italian automobile and aircraft engine designer.) detuned it, and increased the displacement from 1,596cc to 1,987cc, (later to 2,418cc). Performance was lively, with an 8 second 0-60 mph time and 130 mph top speed.
Apart from the significance to me, the car itself has huge historical significance. It's a really special part of Ferrari and Fiat history. 

August also came with the annual Irish Motor Festival that's that took place in Punchestown racecourse. A two day event which ran along side the Irish Drift Games competition. We had a 12 car stand featuring some of our beautiful classics along side some of our modern stock. The star of our stand was a coin toss between the Mercedes 280SL Pagoda and the Porsche Cayman which recieved the most attention and our little VW Golf gti was turning heads from the minute it drove in. It was a great event with some mouth watering cars from Lamborghini and Ferrari to a former Formula 1 car. Lets just say, we were in our element. The whole weekend was brilliant and I'm looking forward to next year already.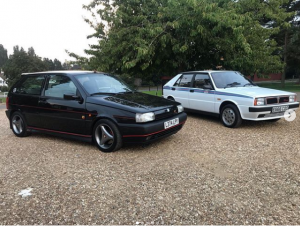 We've have some very special cars coming into stock over the next few weeks, we seem to have gone hatchback crazy… We have an incredible Lancia Delta Turbo HF Martini edition with a full service history and just 82k miles from new, a Fiat Tipo Sedicivalvole that was sold before we even got off the ferry. Lets not forget the lovely little rocket of a Renualt 5 turbo that we're just in the process of getting ready for sale. It won't be too long now before its up here on the website. Coming into stock in a couple of weeks is a mouth watering Volvo 740 with just 5,000 miles on the clock… No that is not missing a zero! 5000 MILES!!! The car is like new and comes with heated seats, original period extras of the super cool hard floor mats and the all important original Volvo radio/cassette player that sadly we don't have any tapes for.

Another special hatch back which I had forgotten about was the Peugeot 205 gti. Not only was it absolutely mint but it also featured on Top Gear twice. Richard Hammond also wrote a feature about 205's on his Hammonds Icon's the car in the photos is our car, he loved the car so much that he said "It's just far, far more fun than any modern hot hatch I can think of off the top of my head and, if the world were a fairer, more wonderful place, everyone between the ages of 17 and 22 would be issued with one as a matter of course."
check out the article here…. https://www.topgear.com/car-news/hammonds-icons-peugeot-205-gti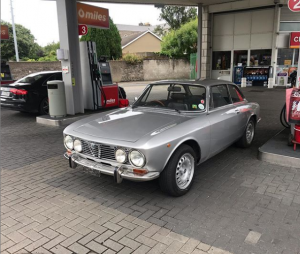 At the beginning of the month we finally got to finish the restoration of our Alfa Romeo 2000 GTV. A long but rewarding process, we all had more than our fair share of hours put into it here in the garage and I think it turned out extremely well. I had forgotten how much of a drivers car she really is, the roar of the engine as you accelerate, the feel of the wooden steering wheel in your hands, the smooth gear box and of course the look of it as you catch a glimpse of your reflection while sitting in traffic…. if that doesn't at least put a smirk on your face you should be checking yourself in somewhere. There is still a little bit of tuning to be done, but only minor things that can be worked on as shes being driven in.
We are really looking forward to the month ahead and we cant wait to show you some even more exciting cars as the arrive on the daily.
See you soon
Simon